Question
What does it mean when I get the error "License Validation Failed"?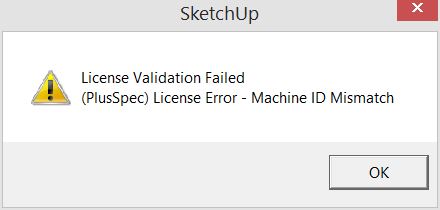 Solution
This may be due to your license not being active or has expired, or that you have tried to load PlusSpec onto too many computers at one time. A single PlusSpec license can only be loaded and run on one computer. To check whether you have an active license, head to your Personal Billing portal then look at your expiration date on the main page.
If the problem still appears, re-install PlusSpec through the downloads page.
Another reason may be that you have changed your internet connection, causing your machine ID to change/ This means when you open PlusSpec you will receive a maximum license error message because the software believes that you have tried loading PlusSpec onto another computer. There is a very easy fix.
Disconnect your internet and open SketchUp

Next, reconnect your internet and re-start SketchUp! This will make PlusSpec re-open and connect your license with your machine ID.
If you believe your license is active, have not changed internet connections but are still seeing this error, please contact us via the submit a request button above, or contact us via support@plusspec.com and include a screenshot of the error message you are receiving.