Did you know that PlusSpec for SketchUp has a super powerful tool called the 'Material Creator'?
What's so special about the Material Creator?
One of the most powerful features of PlusSpec is that you are able to design, estimate or specify actual building products. These products are the essence of BIM and are filled with information. They are also an exact, to-scale replica of the actual product. This means that you will reduce design and specification errors – and that your clients will be able to see exactly what they are going to get!
Although PlusSpec has hundreds of products from a growing number of Building Manufacturers, it will be a little while (but hopefully not too long) before we have every Building Manufacturer hosting their products inside of PlusSpec.
There may even be times when you simply want the flexibility of using a generic product. And this is the power of the PlusSpec Material Creator. With this tool, you are able to quickly and easily create all of your favorite building products that aren't yet on PlusSpec – or even generic stuff. Once you have created a product, it is saved to your personal Material Library (which is attached to your PlusSpec subscription).
Hang on. I get a personal Material Library with PlusSpec?
Yes! Every time that you create a custom product, it is saved to your personal Material Library and becomes immediately available for you to use from the PlusSpec drop-down menu. In other words, you can completely customize the Materials, Selections & Finishes for every tool!
If you have multiple seats under an account, the Material Library is automatically linked and shared across all of the PlusSpec seats.
And you can even share your Material library with other PlusSpec users (such as consultants, peers, etc). Awesome, right?!
How long does it take to create a product?
Like most things in life, the first time is the hardest. But once you have done it a couple of times, it gets super easy.
A single product (that is scaled correctly, with the correct thickness, name, brand, etc) should only take you a couple of minutes!
The hardest part is finding or creating the right image for your product.
Okay. How do I use the Material Creator?
You can create products in all of the PlusSpec tools, such as the wall tool, the floor tool, the roof tool, etc.
Simply open the tool that you want to create the product for, such as the wall tool. Next, open the tab 'Materials Selections & Finishes'. Next, select a product from the list and then press the button 'Create/Manage'.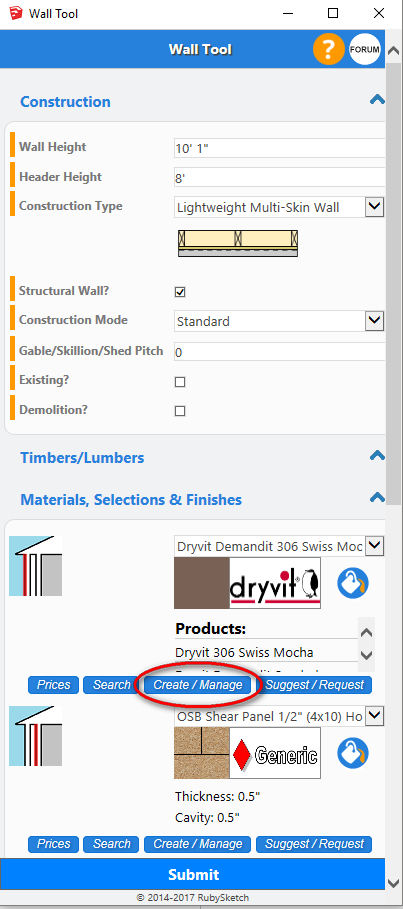 Note: Some materials/layers can't be used as the base selection for creating a new product, such as composite materials (shown in the above image). We'll talk about composite materials in another post. Just ensure that you select another non-composite material from the drop-down before clicking on the 'Create/Manage' button.
This will launch the Material Creator Page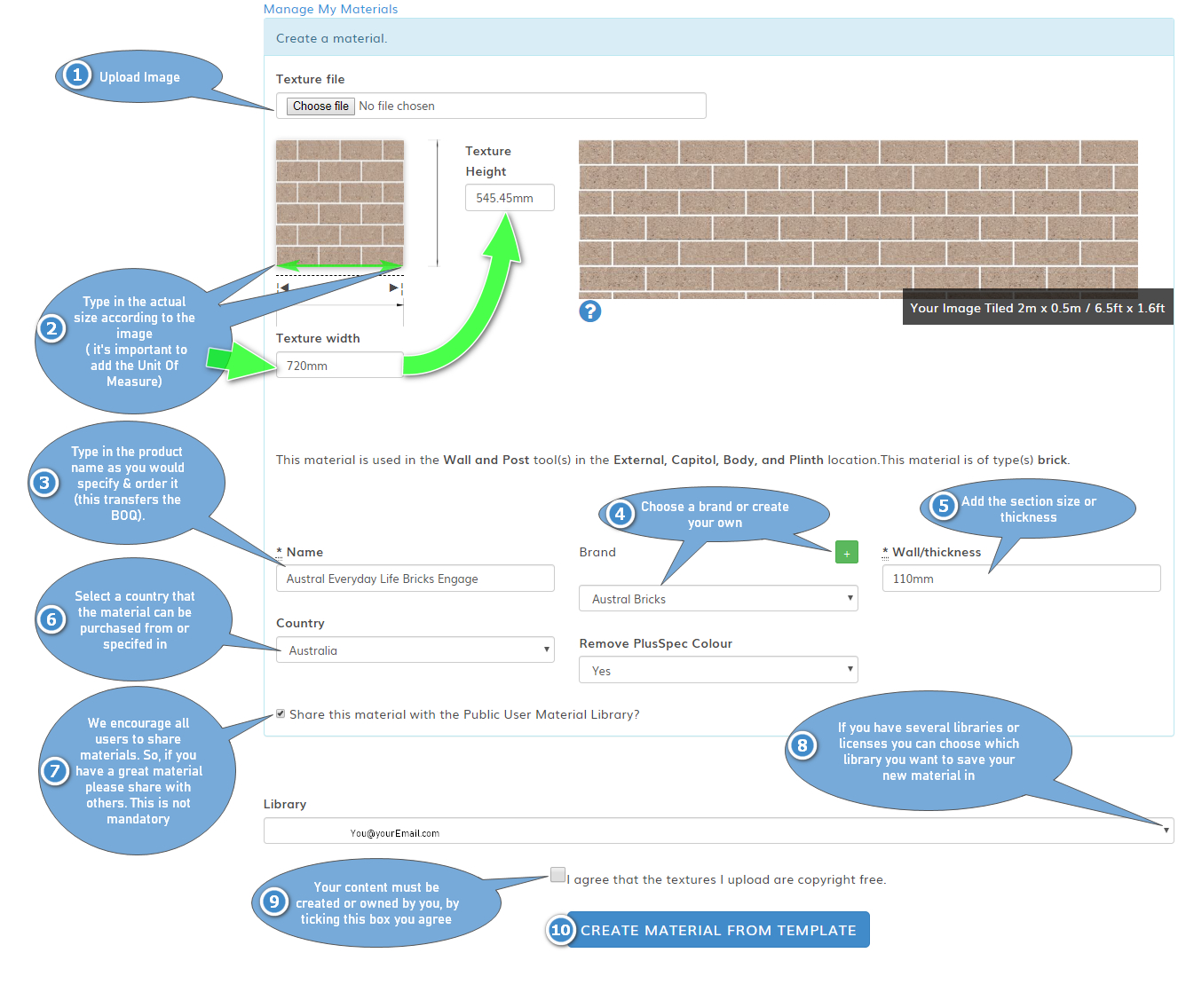 To create your product, you will need to find an image. You are then able to scale it, name it, add a brand (or nominate it as generic), and add a material thickness.
Note: Some materials are shown without thickness. Read our post about LOD (Level of Detail) to better understand why some materials are shown without a material thickness.
To finish creating the product, tick the box and press 'Create Material from Template'.
And voila! You will have now created your custom product. To load the new product into PlusSpec, you can drag and drop the new product into the drop-down, if you are using a PC (or alternatively, just press the 'sync' tool). If you are using a Mac, you will need to press the sync tool.
What image should I use, or how do I create my own?
To make a sexy-looking product with the Material Creator, you'll need to understand Seamless/Tileable Textures. Make sure that you read our blogs 'What is a Seamless Texture' and 'How to make a Seamless Texture'.
Because most CAD software uses seamless textures, many building manufacturers have a library of their products as seamless textures on their websites. This is the best place to look first.
How many products can I store in my personal Material Library?
Unlimited. Seriously, the sky's the limit!
Note: Most PlusSpec users only create products when they need to (rather than spending a few hours creating them in bulk). You may never even need to create one. This tool is all about flexibility.
Can I suggest a brand that I would love to see available in PlusSpec?
Yes. Just click on the Suggest/Request tab under the 'Material, Selections & Finishes tab' (in any of the PlusSpec tools).
You can also contact your Building Manufacturers directly and tell them why they need to have their products available in PlusSpec!
As always, we'd love to hear your thoughts or experience with this tool.
You may also check out the video tutorials here:
1. How to Create & Quantifying Custom items and components
2. Creating Materials for Construction Estimating, Client Visualization & Collaboration
**If you have PlusSpec-related questions, please use our forum.