There may be multiple reasons for this type of problem. Be sure your file is not too large as all tools of PlusSpec can delay if your file is too large.
Solutions
1. If your file size is reasonable, open SketchUp, then go click Window > Default Tray and untick Outliner. When using PlusSpec, we recommend that you deactivate Outliner and only use it if you actually need it. Once you're finished using it, deactivate it upon completion of your task.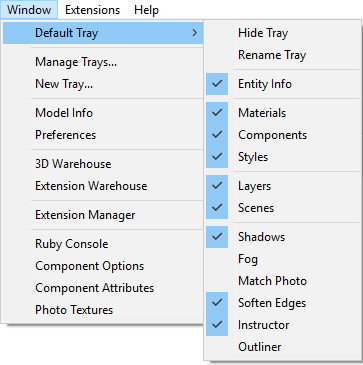 2. Use the purge tool to remove any deleted components and materials from your model. This ensures that your file size remains as small as possible, so that your model will run as quickly as possible. To do this, click the Purge/Clean Up Tool icon in your PlusSpec Toolbar, then select Okay when presented with the dialogue box.

3. Ensure that your computer meets the minimum system requirements. Further details can be found on our website here.
4. If you are using any other plugins for SketchUp, sometimes they conflict with PlusSpec and create performance issues. We recommend that you go through your plugins and deactivate them one at a time to isolate the cause of lagging. To test this, try using the Handrail Tool to see if the lagging persists.
5. If you have downloaded components from the 3D Warehouse, especially components such as furniture and trees, sometimes they create performance issues as the file sizes are very large. We recommend deleting these components, purge your model and closing/reopening SketchUp. This can always be tested by checking the file size of your model.
6. Simply try restarting your computer.
6. alternatively you can Repair SketchUp with this article here https://help.sketchup.com/en/sketchup/uninstalling-or-repairing-sketchup
If your SketchUp model continues to lag whilst using PlusSpec, click on submit a request or email us at support@plusspec.com.